2014 Archives
Teamsters Call on Congress to Stop Special Exemption for Fortune 50 Company

International Brotherhood of Teamsters General President Jim Hoffa today wrote a letter that was sent to the Congressional leadership and circulated to all members of Congress, expressing strong opposition to proposed legislation that would result in a $2 billion bailout of United Parcel Service (UPS).
The letter in its entirety is below and can be found online here:
"On behalf of the 1.4 million members of the International Brotherhood of Teamsters, I am writing to express my strongest opposition to any last minute deal to give United Parcel Service (UPS) a $2 billion bailout to relieve the company of negotiated pension obligations.
"UPS is attempting to escape a negotiated obligation the company agreed to when it withdrew from the Teamsters Central States Pension Fund. This $100 billion, Fortune 50 company is using its influence on Capitol Hill to obtain what amounts to a special interest earmark that sets a dangerous precedent – rewarding a wealthy company by allowing it to evade the contract and slashing retirement benefits should benefit reductions be required under the pending pension reform legislation.
"It's bad enough that some retirees would experience benefit reductions under the National Coordinating Committee for Multiemployer Plans (NCCMP) proposal. It's quite another situation when a company cuts a secret back room deal to save $2 billion by slashing those benefits even further. This outrageous government bailout of one of the most profitable companies in America should be stopped in its tracks.
"While the Teamsters Union has been clear in its opposition to retiree benefit cuts, this proposal would add insult to injury by introducing even more draconian cuts for hundreds of thousands of Teamsters. I urge you to oppose this outrageous plan to bailout UPS for, in effect, breaking its word."
Founded in 1903, the International Brotherhood of Teamsters represents 1.4 million hardworking men and women throughout the United States, Canada and Puerto Rico. Visit www.teamster.org for more information. Follow us on Twitter @Teamsters and on Facebook at www.facebook.com/teamsters.
Local 264 Members Answer The Bell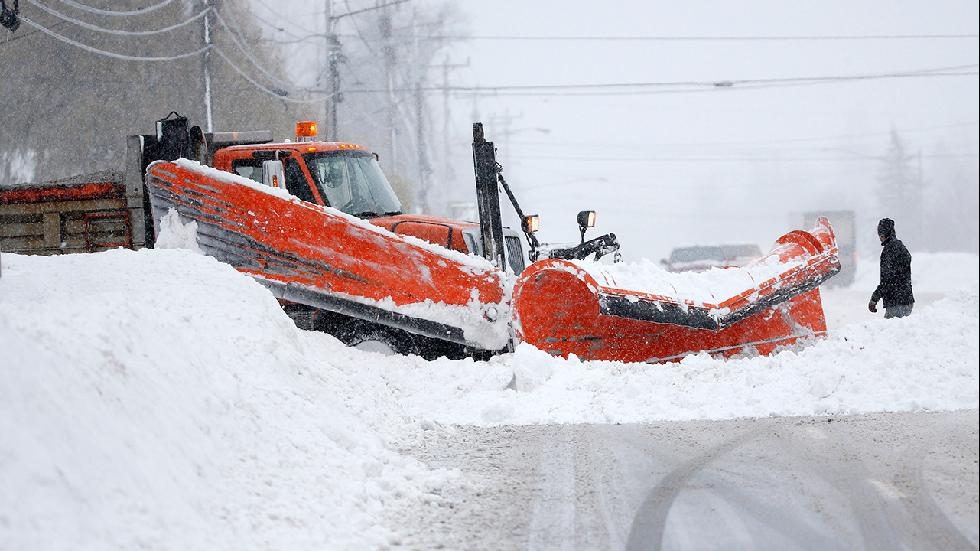 In the wake of this unprecedented storm, I would like to thank all Local 264 members in both the public and private sector who answered the bell in a huge way. The most visible of course are the snow plow drivers in the dozens of municipalities that we represent who worked around the clock to clear our roads, but I also recognize that we have many others who worked tirelessly in lesser visible industries to make a difference.
It would be impossible to recognize them all, but just to name a few, the Erie County Sheriff's Deputies, Nurses and Civilians also worked around the clock to maintain safety at the Erie County Holding Center and the Erie County Correctional Facility. Warehouse workers and drivers of Tops Markets, Upstate Farms, US Foods, Allied Frozen Storage, Tripifoods, Stroehmann and Schwebel Bakeries ensured that store and supermarket shelves remained stocked with milk, bread and other essential food products for those who managed to walk to the stores. Local 264 members employed at the Buffalo Water Authority braved the elements to shut-off fire hydrants that were knocked-off by plows or other vehicles during the blinding snow. A UPS Driver from the Dunkirk Terminal was stranded for days in Cheektowaga while making her daily trip to the Buffalo Airport to pick-up Next Day Air packages. Crossett tank drivers delivered gas and diesel to our service stations in terrible driving conditions, and in the spirit of the late Mayor Jimmy Griffin, warehouse workers and drivers of Try-It Distributors and Certo Brothers made sure that anyone who wanted to "grab a six-pack and just stay home" was able to do so.
While we in Organized Labor are often viewed as over-paid, lazy and pampered, I for one am fully aware and appreciative of the hard work and dedication that our members exhibited last week.
To all of our members who made a difference, I offer a sincere and heartfelt THANK YOU.
In Solidarity,
Brian Dickman.
FAST TRACK WEEK OF ACTION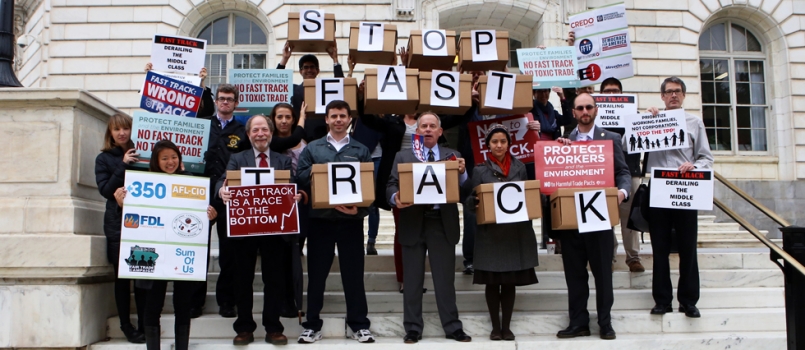 Happy Stop Fast Track Week of Action! There are a couple things that everyone can do to be involved in this week, and we encourage you to help with the following efforts:
Call your member of Congress and demand that they vote no on fast track.
Email your member of Congress and tell them that Fast Track will cost good US jobs.
Sign the "Fast Track is Wrong for Teamsters" petition.
All of this can be easily accomplished by visiting:
http://teamster.org/fast-track-wrong-track-teamsters
Together with your help, we will send a clear message to Congress that Fast Track is the wrong track for Teamsters!
National Voter Registration Day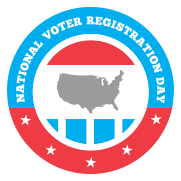 Tuesday, September 23rd is National Voter Registration Day, a day when volunteers, celebrities, and organizations from all over the country will "hit the streets" to create pervasive awareness of voter registration opportunities.
In 2008, 6 million Americans didn't vote because they missed a registration deadline or didn't know how to register. In 2014, we want to make sure no one is left out, especially Teamster members. There is so much at stake in this year's elections; we can't afford a repeat of 2010.
The IBT and Local 264 are supporting partners of National Voter Registration Day. In New York State the deadline to register is October 14th in order to vote in this years election. Registration forms can be obtained at the Union Hall, by contacting Tony Vaccaro at 716-668-8007 ext. 118 tvaccaro264@yahoo.com or by visiting the official National Voter Registration Day website
Together, we can ensure that the Teamsters Union makes an even greater impact at the ballot box this year by electing labor-friendly law-makers.
Teamsters Praise Obama Crackdown On Companies That Abuse Workers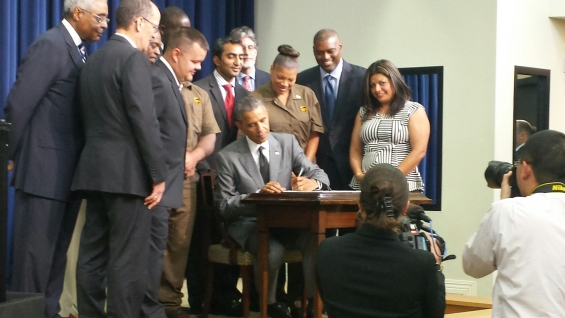 (WASHINGTON) – The International Brotherhood of Teamsters strongly supports President Obama's executive order to crack down on corporations that break laws but still win government contracts.
Two members of the Teamsters Union stood with President Obama today to announce the new policy. They are Mike Petro of Baltimore, a UPS driver with Teamsters Local 355, and Etta Epps of Landover, Md., also a UPS driver, with Teamsters Local 639.
"I am so proud of how my union makes sure I earn a good wage, health care benefits and retirement security," Petro said. "As a taxpayer, I believe the government should support companies that let workers support themselves through collective bargaining."
"My Teamster contract guarantees that I earn equal pay to a man who does the same job I do," said Epps. "The government shouldn't compensate companies that attack women by attacking their unions."
"Taxpayers shouldn't reward lawbreakers that bust unions, steal wages and endanger workers," said Teamsters General President Jim Hoffa. "President Obama is right to make it harder for companies that abuse workers to receive federal contracts.
"Corporations now know they can break wage and hour laws with impunity. Men and women who work hard and play by the rules should not be sending their tax dollars to companies that mistreat their employees. Bad actors don't deserve the financial support of the federal government."
Founded in 1903, the International Brotherhood of Teamsters represents 1.4 million hardworking men and women throughout the United States, Canada and Puerto Rico. Visit www.teamster.org for more information. Follow us on Twitter @Teamsters and "like" us on Facebook at www.facebook.com/teamsters.
WNY Area Labor Federation President Richard Lipsitz Named Vice Chairman Of The Erie County Industrial Development Agency By Unanimous Vote

Western New York AFL-CIO Area Labor Federation (WNYALF) President Richard Lipsitz Was Named Vice Chairman of the Erie County Industrial Development Agency (ECIDA) Today (Wednesday, July 16th) by a Unanimous Vote – Which Not Only Places Another Feather in the Cap of Organized Labor, But Helps Ensure the ECIDA Will Provide "Good Jobs" Through the Industrial Development Projects it Funds With Taxpayer Dollars.
"It's Important," Lipsitz (Pictured Above Listening to Two Area Young Unionists) Told WNYLaborToday.com After This Morning's Vote. "It Was the (Erie) County Executive (Mark Poloncarz) Who Nominated Me and He Too Understands That the IDA Needs to Help Create 'Good Jobs' Through Industrial Investment in the Community. Labor's Goal Coincides With Community Benefits, 'Benefits' That Help 'Ordinary People' Make a Good Living – 'With' Benefits. That's What it's All About."
Lipsitz, Who's Served as an ECIDA Board Member For Past 2.5 Years, Was Appointed to the Board by Erie County Executive Mark Poloncarz.
Lipsitz Has a Long Union History, Which Stretches Back Into the Mid-70s Here in Western New York. Currently Serving as Teamsters Joint Council No. 46's Political Action Coordinator, Lipsitz Has Also Held a Number of Local Labor Positions Over the Years - Including Union Steward and Union President, Working Previously With the Service Employees International Union (SEIU) Before Joining the Teamsters. He's Served as President of the WNYALF – Labor's Area Umbrella Organization That Oversees and Directs Five Individual Labor Councils: Buffalo; Niagara-Orleans; Dunkirk; Jamestown; and Cattaraugus-Allegany – For Nearly Three Years Now.
Lipsitz's Elevation to Vice Chairman of the ECIDA Came After Brenda McDuffie, President and Chief Executive Officer of the Buffalo Urban League, Was Named Chairman. McDuffie, Lipsitz said, Has "Similar Views" of Organized Labor Regarding the IDA Helping Create "Jobs That Provide a Future," as Well as Maintaining a Host of Minority and Women Hiring Goals on the Construction Projects Funded by the IDA.
In Addition to Lipsitz, Buffalo AFL-CIO Council President Michael Hoffert Also Holds a Seat on the ECIDA's Board of Directors.
Working in Tandem, Lipsitz and Hoffert Were Successful Earlier This Year in Pushing Forward a Local Hiring Provision/Workforce Standards Agreement – Which Ensures Local Workers are Hired and Paid Good Wages When the ECICA provides Taxpayer Dollars to Help Fund Major Construction Projects in Erie County (Go to: www.wnylabortoday.com/index.php?src=news&refno=3385&category=Buffalo).
The Two Told Your On-Line Newspaper Back in April That the Workforce Standards Agreement Was a "Tremendous" Economic Development Benefit That Will Work to Create Good-Paying Jobs for Local Workers.
As Representatives of Working People, Lipsitz Also He and Hoffert Support What's Called Recapture Methods to Reclaim IDA Taxpayers Dollars When "the Hiring Goals of the Project are Not Met" by Funded Developers.
For Example, the Workforce Standards Agreement Will Apply to Veteran Buffalo Developer Mark Croce's $18.1 Million Hotel/Hospitality Project to Convert the Long-Vacant and Historic Curtiss Building in Downtown Buffalo Into a Boutique Hotel. Croce Recently Received Sales and Mortgage Tax Breaks Totaling $685,000 From the ECIDA, Which Will Help Create a 67-Room, Boutique Hotel, Fine Dining Restaurant, Lounge, Spa and Fitness Center Within the Old Curtiss Building on Franklin Street. The Project is Also Expected to Create 30 New Jobs.
COSTANZO ROUTE DRIVERS VOTE TO JOIN LOCAL 264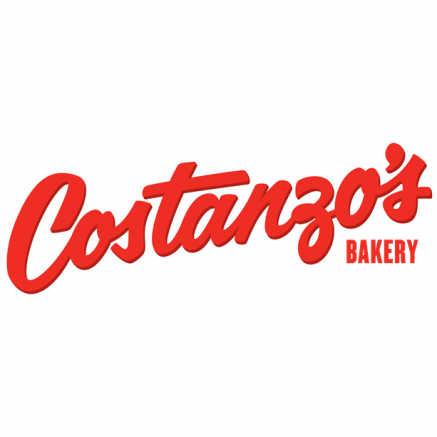 Workers Vote for Strong Partner to Address Issues on the Job
PRESS CONTACT
Tony Vaccaro
Email:
Phone: (716) 668-8007
(CHEEKTOWAGA, N.Y.) – Today, route sales drivers at Costanzo's Bakery overwhelmingly voted to join Teamsters Local 264 in Cheektowaga, N.Y. despite a concerted effort by the company to discourage unionization that included weekly captive audience meetings and intimidation.
The workers, who sell and deliver baked goods across Western New York, approached Local 264 in early May looking for help to address problems that had grown out of control at Costanzo's Bakery.
"We were being treated poorly by management who was adding more and more stops to our routes without compensation," said Kevin Schmidt a sales route driver at Costanzo's. "No matter how we approached the company, they ignored us, but with the Teamsters representing us, they won't be able to ignore us any longer."
Schmidt praised the local for all the work they had done leading up to the vote, including getting a driver reinstated after the company fired him.
"We filed an unfair labor practice complaint after Costanzo's fired a driver as a way, we believe, to intimidate other workers who wanted a union," said Tony Vaccaro, Local 264 business agent. "Despite all of the anti-union tactics management threw at these guys, they remained united and voted for their union."
Founded in 1903, the International Brotherhood of Teamsters represents more than 1.4 million hardworking men and women throughout the United States, Canada and Puerto. Follow us on Twitter @Teamsters and "Like" us on Facebook at www.facebook.com/teamsters.
UPS MASTER AGREEMENT GOES INTO EFFECT

From the Teamsters UPS National Negotiating Committee regarding the 2013 National Master United Parcel Service Agreement, All Supplements, Riders and Addenda
April 23, 2014 - The 2013 National Master United Parcel Service Agreement and all Supplements, Riders and Addenda are in effect starting April 25, 2014. The Teamsters National Negotiating Committee took this action pursuant to Article XII of the International Brotherhood of Teamsters Constitution.
The economics contained in the Agreement are retroactive to August 1, 2013. UPS has committed to expediting payment of your retroactive wages. The retro check will be a separate check from your regular paycheck. UPS owes Teamster members and funds over $300 million in wages and contributions. It is time to make Teamster members and their funds whole.
The changes to health care that were approved by a majority of UPS Teamsters in June 2013 will go into effect June 1, 2014. If your health care is changing as a result of this Agreement, you will be receiving information in the coming weeks regarding your benefits.
It was an honor to represent UPS Teamsters across the country in these negotiations. Through our united efforts we have negotiated a strong contract that includes pay increases, excellent benefits and new language that protects our jobs and improves our working conditions. We would like to thank the UPS Teamsters across the country who have waited patiently while our Teamsters collective bargaining process was completed.

Download:


UPS Final.pdf


UPS CONTRACT UPDATE

The Ohio Rider has been passed by the membership. Still outstanding are the Western Pennsylvania Supplement, Local 623 Supplement and the Local 89 Air Rider. Ballots will be mailed for the Local 89 Rider this week and will be counted on April 10, 2014.
Union Honors Contributions of Female Members

March is Women's History Month, a time to reflect upon and celebrate the contributions American women have made to society.
The Teamsters Union has always stood as a bastion of hope for all working people, regardless of gender, race or creed. The Teamsters Union was the first to secure a gender-blind, color-blind contract, and throughout our history our leaders have demanded equality for all members. But it is Teamsters themselves who have upheld the values of this organization and who have stood together to face and overcome adversity.
Teamster women have made significant contributions to the work force over the years, bravely fighting for economic and social justice. Teamster women, in particular, have been engaged and active politically, socially and economically, helping pass important legislation, volunteering in their communities and making life better for us all.
Teamster Women
According to the average high school history textbook, the history of women in the labor movement can be told in a few short paragraphs about Mother Jones and some women sewing shirts in New York City. Apparently the authors never asked any working women about their story. If they had, they would know that many women have been active in the labor movement from the very beginning, leading the way for passage of critical labor legislation over the years. And Teamster women, although not usually involved in the typical heavy work of the members in the early days, were critical to the union's success.
Dan Tobin, elected General President of the Teamsters in 1907, recognized the value of organizing women as a way to strengthen the union's voice and increase membership. He set out to bring union protection to working women across the country. His plan quickly stalled, because while most men understood the plight of working women, they thought it folly to give full membership to a group that could not even vote. It would take two World Wars and a national epidemic to change their minds.
Undaunted, Tobin and other like-mined Teamsters found other ways to aid working women. Representatives of the union helped women workers, referred to as "auxiliary members," organize, plan strikes and win fair contracts in the workplace. Tobin also used the Teamster magazine as a way to promote awareness of issues related to women and children in the labor force, which set it apart from many other publications of the time.
In 1916 the Teamsters were involved with a landmark contract for women laundry workers in Chicago. The union helped the workers successfully organize and create their first all-women negotiating committee. The committee won a strong contract, including a non-negotiable provision demanding equal pay for white and black workers. Following this success, the door was opened to organize more "auxiliary members" in the laundry, food and other related industries.
Equal Pay For All
By 1917 women were being trained in the motorcar and truck industries as men prepared to join the war overseas. They stepped into many other jobs previously held by men and were also trained to keep local unions going during the war.
With the great flu epidemic of 1918, Teamster women found themselves doing much more than keeping the home fires burning. Women truck drivers were needed to transport medicine and supplies to hospitals and rural areas. These women would complete a day's work, then pick up supplies to deliver to farm families. At each stop they would help with chores and get the family settled before moving on to the next stop. Their courage and strength was incredible. The union and the country would not have made it without them. Their deeds were lauded at the time, but largely forgotten today.
As a tribute to the tremendous efforts of women and minorities in the war, the Teamsters pushed for wage equality, adopting "Equal pay for all" as their union slogan in 1919.
After a decade of post-war prosperity, the Great Depression of the 1930s brought decreases in membership for all unions. Scarcity of jobs and fears of unemployment forced workers to take whatever wages they could get. In 1934, Teamster men and women in Minneapolis took a stand against poor treatment from companies and city officials. They called a general strike, which became the epicenter of clashes between labor and management forces throughout the nation. Women were key players in this long, bloody strike that led directly to labor reform acts and the establishment of the National Labor Relations Board. They set up an infirmary, soup kitchen and other services for strikers, which ran 24 hours a day. They also raised funds to support workers and even created a newspaper to keep strikers up to date on the situation.
Rosie the Riveter Joins the Union
The bombing of Pearl Harbor brought millions of new women into the work force, tackling jobs in war production, transportation and other essential industries, many with workers represented by the Teamsters.
Recognizing the country's dependence on their efforts gave Teamster women the leverage they needed to demand and win full union membership in 1943.
After the war, women stayed active in organizing and also turned their attention to politics, taking an active role in the union's new political action program, DRIVE (Democrat, Republican, Independent Voter Education). They became very adept at bringing attention to important labor issues.
The Future Is Now
These are just a few of the many accomplishments by Teamster women over the decades.
Teamster women have never stopped blazing trails in the union and in the work force. They have pushed for improved workplace standards and pursued nontraditional jobs in every field.
The number of women in the work force is expected to increase dramatically in the next few decades, creating even greater need for strong women in labor unions. Dan Tobin was right: Women are valuable members, bringing strength and character to the union.
He foresaw a strong future for them in 1947 when he said, "Women members are coming into their own. In the future they will be out in ever increasing numbers…an army of labor amazons that the exploiters will learn to fear."
Today, we are thankful for the contributions of those who have helped make our union what it is: a diverse, ever-growing organization that fights for justice, equality and fair treatment in the workplace.
Page Last Updated: May 14, 2019 (11:58:00)