Updated On: May 134, 2019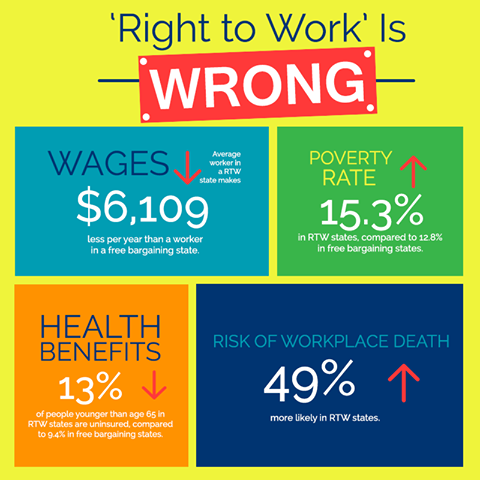 On Wednesday Reps. Joe Wilson of South Carolina and Steve King of Iowa are introducing a National Right to Work law which would amend the National Labor Relations Act and not require all employees in a union shop to pay dues as a condition of employment. If this law passes, unions will be forced to provide services and protection to worker's who don't pay-in. This move will inevitably weaken, and quite possibly, destroy the union movement as we know it.
Right to Work (for less) is not new to this nation. Twenty-eight states have passed Right to Work laws. Most recently, Kentucky and West Virginia passed the legislation with Missouri close to making it the law of the land any day now. The Trump Train is in no doubt responsible for this recent push and this is not an isolated movement in Midwestern or deep Southern states. New Hampshire is expected to become a Right to Work (for less) state and its impact will be tremendous in the Northeast.
Wherever these laws have been passed, wages are lower, job opportunities are fewer and there are no civil rights. We do not intend to let them do this to us. We demand this fraud be stopped. Our weapon is our vote." -Dr. Martin Luther King Jr. speaking about right-to-work laws in 1961
Right to Work has incredible negative ramifications. Let's ignore that the passage of Right to Work results in fewer union membership turnouts which affects the strengths of a unions legislative and bargaining power; Right to Work states have lower pay, benefit and health coverage. Workplace accidents and fatalities also increase dramatically. Organizationally, Union representation must be provided for free, creating resentment on the shop floor and a divided workforce. Anybody who has experience working in an enviornment like this understands that those who don't pay dues are the least liked employees.
In Wisconsin, when Right to Work was blindsided and passed, teachers unions lost 50% of its membership. Now, teachers in Wisconsin have lost about 18% of their pay with fewer students aspiring to be educators in the University of Wisconsin collegiate system.
Right after Right to Work (for less) was passed in Wisconsin, 10,000 jobs were lost, ranking the Cheese state 33rd in the nation in job creation. Since July 2011, they have been trailing the national average in job creation and rank last in the United States for start-up company opportunities.
This news also comes a few days after Koch Industries, have pledged $400 million in support for mid-term Congressional elections to anybody who looks to take out organized labor.
Join the fight against Right To Work (for less).