HAPPY THANKSGIVING DAY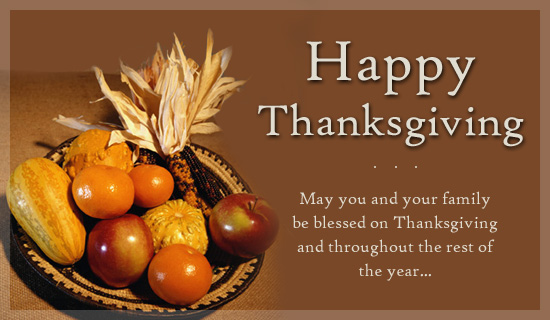 The Officers and Staff of Teamsters Local 264 wish our members and their families a Happy Thanksgiving Day.
On this day we also take time to remember and give thanks to all of our Troops both home and abroad.
James R.Hoffa Scholorship Recipients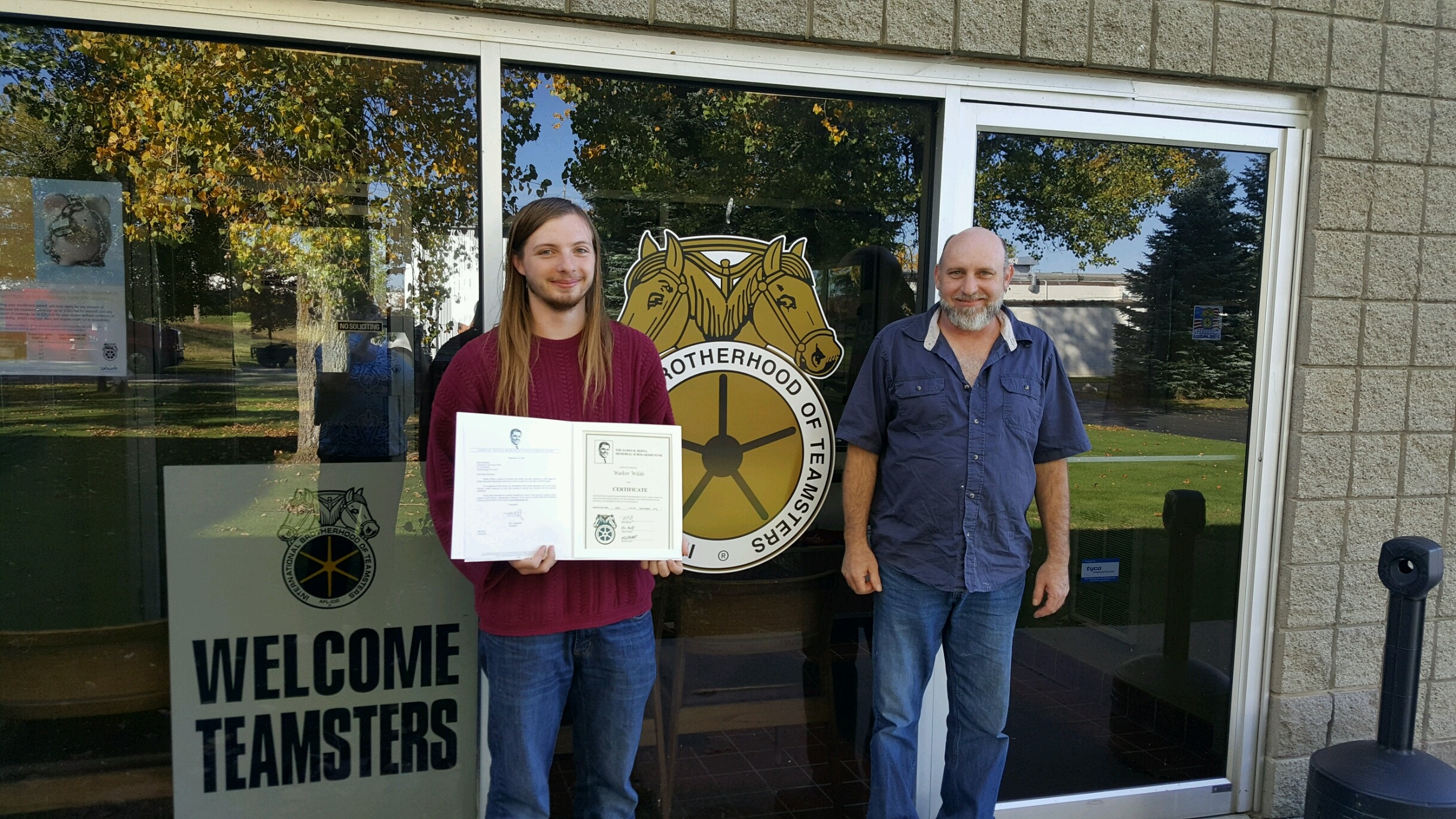 We are proud to announce that the James R. Hoffa Scholarship Fund has awarded $1,000 scholarships to two of our Members children.
Pictured above is 25 year Erie Logistics Warehouseman Paul Wilde with his son Walter who is currently majoring in Mathematics at Buffalo State College.
Cayley Brege, daughter of long-time Driver at Bunzl was also awarded a $1,000 scholarship.
We congratulate them both and wish them all the best in their studies.
Address Changes
In order to update our database, if you have had any address changes in the past few years, please contact the Union Hall at 716-668-8007 Ext 110 or email;
A Labor Day Message from Teamsters General President James P. Hoffa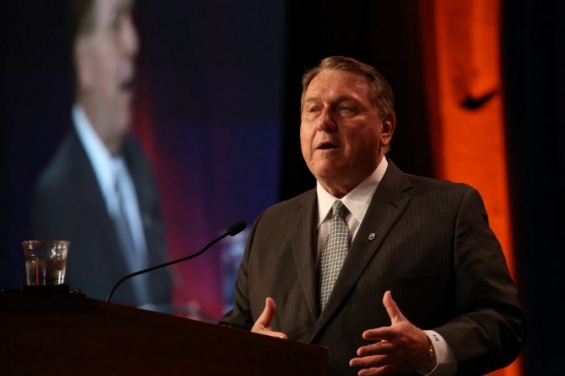 Labor Day is a time for reflection; a day to remember that working people tell the true story of America. They are the mirror that shows how we live and whether we live up to our founding ideals. It is my profound hope that a revitalized labor movement will once again empower working people to drive their own destinies and create a more equally prosperous America.
The American labor movement is responsible for many things we take for granted—the weekend, the 40-hour work week and anti-child labor laws to name a few. Today, our movement is reinvigorated and working for other profoundly important things: securing wages and benefits that working families deserve, the continued existence of the middle class, and respect and dignity for all working people. I'm proud that the Teamsters Union is at the forefront of this effort.
But make no mistake, working families are being attacked and scapegoated like never before. Public employees are being blamed for bad economies. Pensions and health care benefits are demonized as excessive perks of the past while the richest among us enjoy tax rates that are some of the lowest in our nation's history.
Corporate-backed politicians have mounted the most vicious anti-union attacks in memory. Government workers are being stripped of their collective bargaining rights. Right-to-work-for-less bills to destroy unions are becoming law in many states. And if Donald Trump is elected president, he has promised a federal right-to-work law.
The labor movement, and the Teamsters Union in particular, is alive and well and is still forcing change. Labor is behind the movement to stop bad trade deals like the Trans-Pacific Partnership (TPP)—something the Teamsters Union has been warning against for years. Labor is also behind the effort to protect the retirement security of Americans who worked hard their entire lives in order to retire comfortably. Labor is behind the push to improve our nation's infrastructure.
An elite few may have the money, but we have the boots on the ground. I urge you to fight back by getting involved. You can make a difference by talking to workers in organizing drives; attending rallies; urging politicians to support issues such as fair trade; voting for pro-labor candidates; and by becoming a member of DRIVE, our powerful political action committee. Be proud of our legacy, and tell others what it means to be in a union—solidarity, democracy and respect.
For far too many people, Labor Day is seen simply as a day of rest. On this Labor Day, I ask all members to become informed and engaged on the issues that affect us.
In Solidarity,
Jim Hoffa
SAPUTO BARGAINING COMMITTEE
The results of the recent election for the Bargaining Committee in the upcoming negotiations with Saputo Dairies is as follows;
Shane Hurd 39
Keith Perry 32
Rich Taylor 29
Jeff Steadmon 28
Joshua Jamison 23
Dave Washburn 18
There were 45 ballots cast and the top four (4) vote getters will be on the Committee. Our thanks to all.
SAPUTO
Members employed at Saputo Dairy in Friendship, NY will soon be receiving a ballot in the mail. These ballots are for the purpose of electing a Bargaining Committee for the upcoming contract negotiations.
Any questions please contact Business Agent Mark Boling.
716-668-8007 ext. 125
David's Hates Brides
Teamsters Local #264 and community group leaders demonstrated in Solidarity outside David's Bridal, Blasdell NY, in support of our Brothers and Sisters at US Foods. These demonstrations nationwide are in conjuction with nationwide actions supported by our International Union. David's Bridal and US Foods share the same financial backers. These demonstrations will continue, any member who is able to assist please contact Darrin Ziemba at (716)668-8007 x120.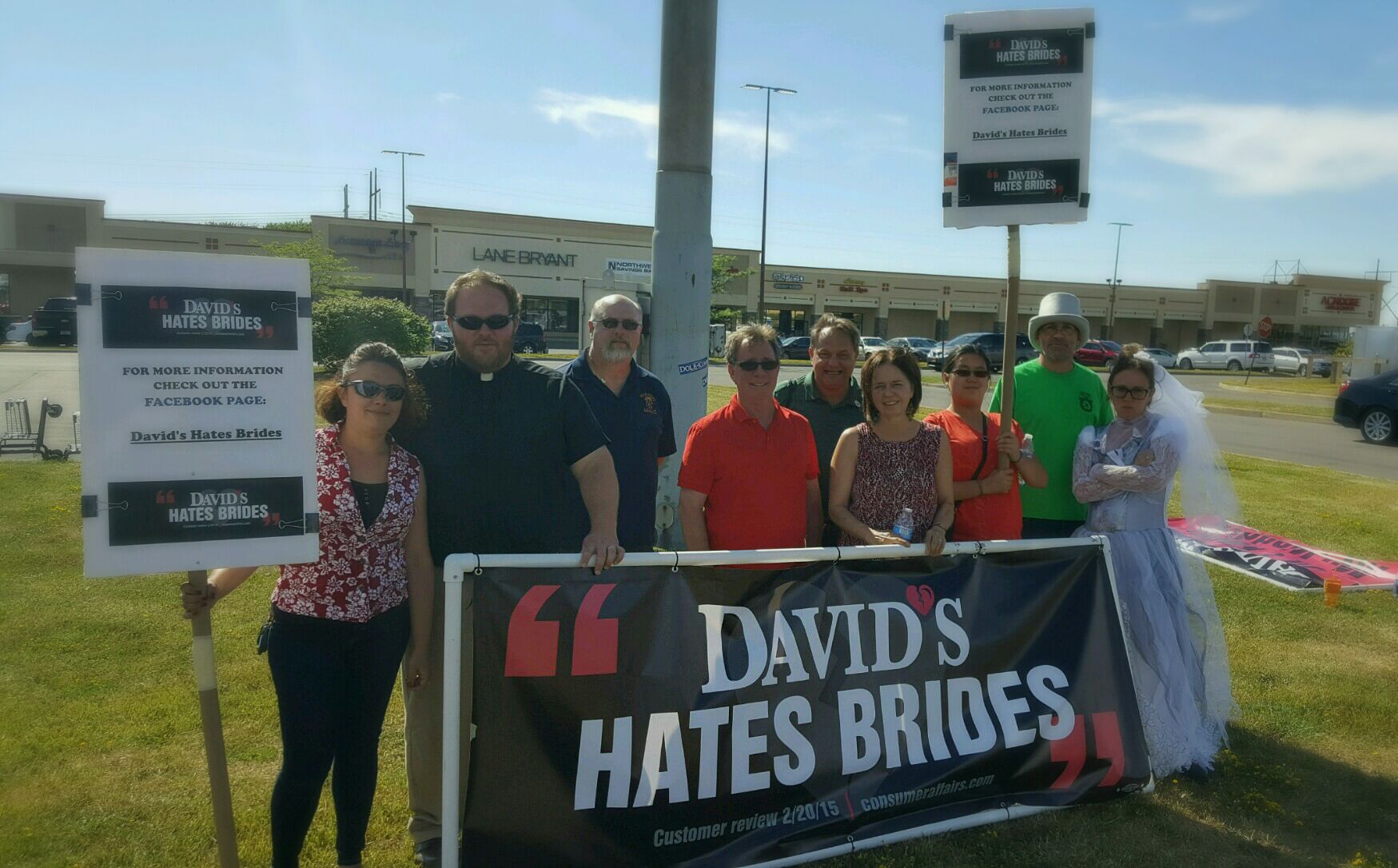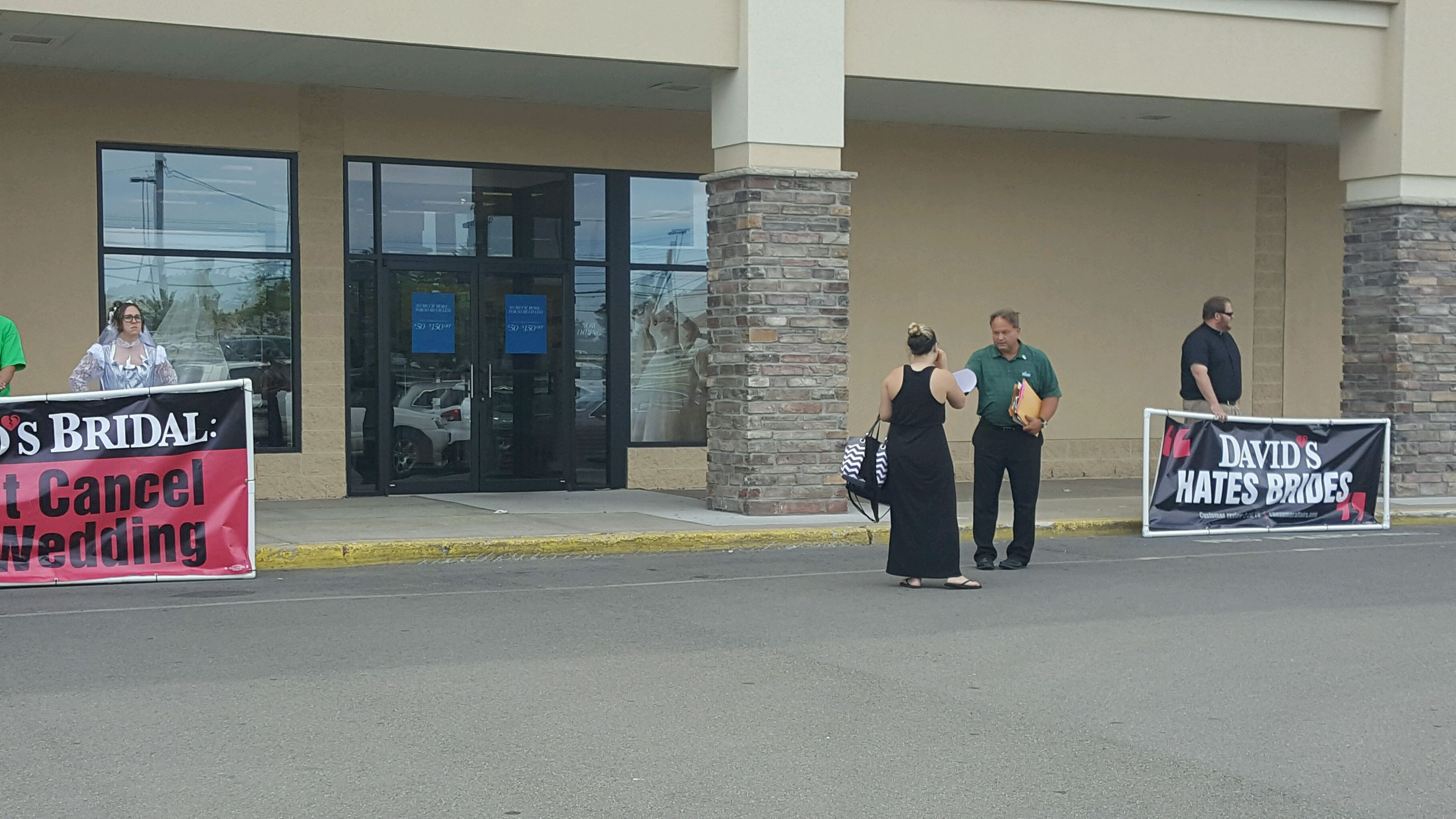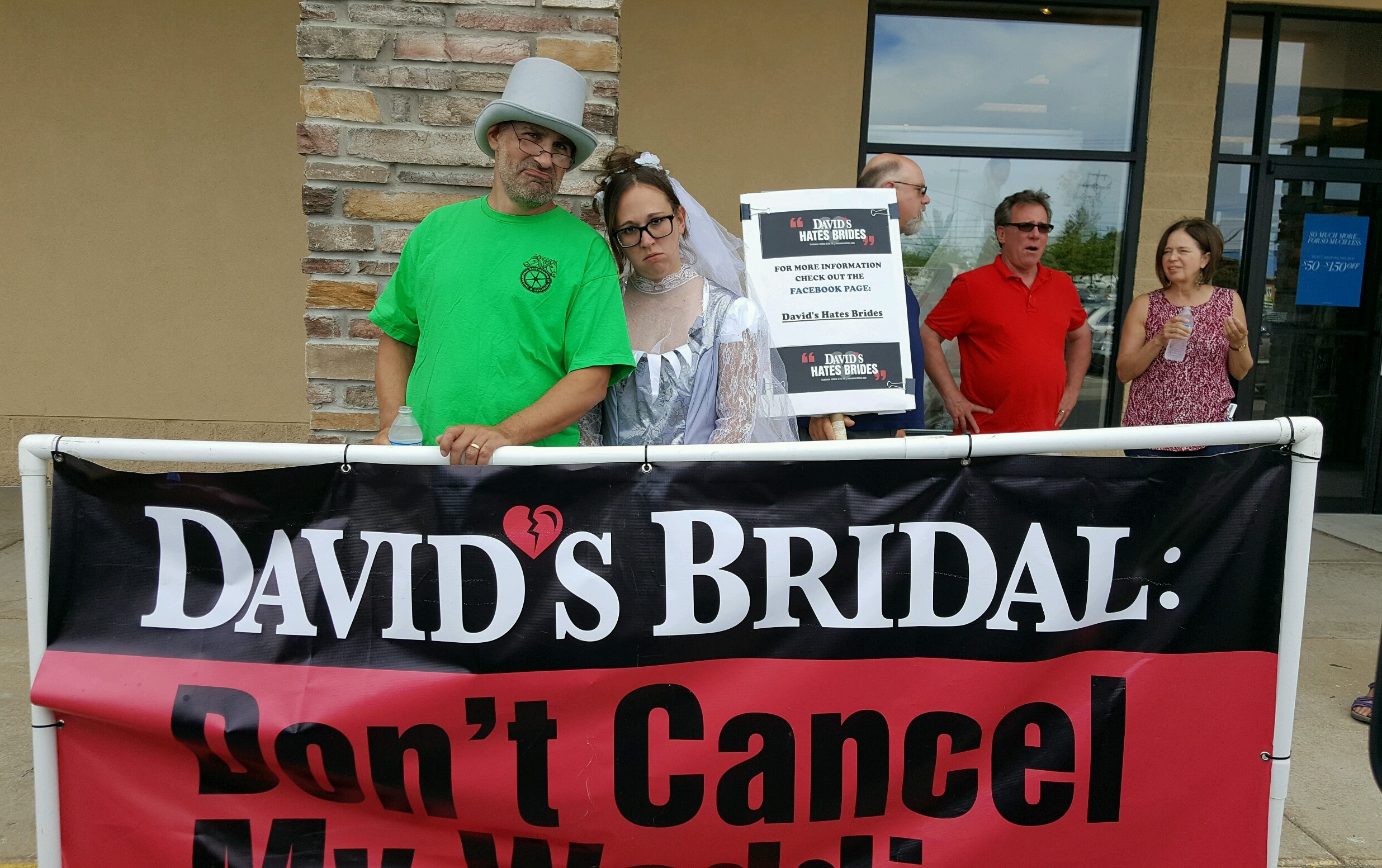 Stand Up to Verizon
Delaney Stutz, Daughter of Fund Administrator Assistant Erin Stutz of Teamsters Local #264 marched with the members on the Stand Up to Verizon picket line.
Delaney (7 years old) walked her first picket yesterday to support the men and women on strike at Verizon.Her mom works for Teamsters Local 264 in Buffalo, NY. She learned all about how important it is to protect good jobs!
Minneapolis Strike of 1934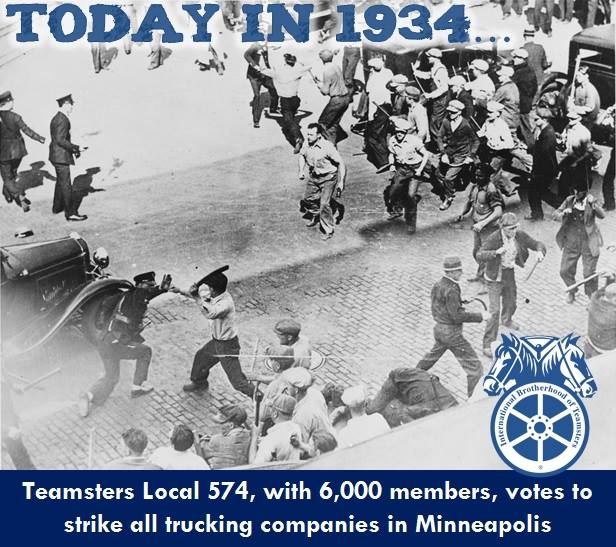 This Day in Teamster History: 82 years ago today, Minneapolis Teamsters voted to strike all trucking companies in the city, setting off the 1934 Teamster strike that brought all trucking to a standstill and nearly shut down the entire city. The victorious general strike led to the rise of the Teamsters as a major force in the labor movement, marking a major shift in industrial relations and opening the door to widespread organizing:
Congratulations to Tom Schaefer for Completing the Boston Marathon 2016
Teamsters Local 264 Leadership would like to Congratulate one of our members from Tops Markets (Warehouse) who qualified and competed in the Boston Marathon this year. Tom Schaefer a long time Teamster member of our Local and Local 558 finished the 26 mile course with a completion time of 4 hours 26 minutes and 36 seconds. Teamster endurance and stamina are exhibited in Brother Schaefer and we are proud of his efforts.
Teamsters Local 264 Delivers Water to Flint, MI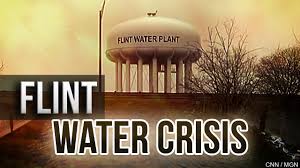 Click Image to get actual story
FLINT (WJRT) - (03/13/16) - Members of a New York union drove 7 hours this morning - coming to help people in Flint living with the water emergency.
"Being from Buffalo we've survived mega feet of snowstorms and lost power but I can't imagine going without water for this long. It's horrendous," said John Mudie, president of Buffalo Central Labor Council.
Members of Buffalo Central Labor Union arrived on Flint's East Side with more than 20 tons of water Sunday morning. Together with members from Greater Flint AFL-CIO, they loaded up anyone who came by.
"Makes it seem like there's still hope. And them coming this far to do this is a sign that people still want to help one another," said Sam Muma, president of Greater Flint AFL-CIO.
Mudie says it was a no-brainer to come help Flint as soon as they heard what was going on. He says hearing peoples' stories of dealing with the crisis first hand, has been touching.
"I sense a little bit of anger, frustration. I mean this is a travesty. It's 2016 and we've got to go month and months and months without water," said Mudie.
Karl Johnson is a new father who lives on the city's East Side.
"We need all the help we can get. I mean people are getting sick and they need the water," he said.
Johnson came to get water for his 7-month-old boy, who bathes in the water too.
"It's hard to do that because you've got to make sure it's warm enough for him. You've got to make sure the water's pure for him. Because if it's not then he's going to get sick," said Johnson.
Stories like his, and the dozens of others who came by for water, make the 7 hour drive and hard work worth it for Mudie and the other union members from Buffalo.
"When you see the looks on the peoples' faces, the gratitude that they extend to us, absolutely, absolutely, it's been great. Flint's a lot like Buffalo it's a working class city. People appreciate the efforts that people put into labor, so yeah we've got quite a bit of thanks," said Mudie.
The union from Buffalo also raised more than 5 thousand dollars in cash for people in Flint, which was donated to the United Way.
A group from Danville, Virginia was holding a water giveaway at West Court Street Church of God at 2920 West Court Street in Flint on Sunday. It began at 1 p.m.
Labor For Flint
Teamsters Local #264 will collecting water to help the residents of Flint, MI. If you would like to make a contribution please contact Darrin at (716)668-8007 x120.
CWA / IBEW Rally Against Verizon
We are planning on doing a march from Elmwood to Franklin Street ( Verizon HQ in Buffalo) on Thursday, August 13. This is to highlight the attack that Verizon has waged on the middle class. We will also have people hand billing the public on Verizon's unwillingness to bring high speed broad band to cities like Buffalo and the surrounding communities.
Please try to turn out walkers for this event. This fight goes beyond the CWA and IBEW. This fight is everybody's fight!
In Solidarity,
Jim Wagner President CWA Local 1122 and the Executive Board of CWA Local 1122
March and Rally with us to WIN a FAIR CONTRACT at VERIZON
On Thursday, August 13, 2015, we will march, rally, and informational picket in our collective fight to push forward and win a FAIR CONTRACT.
Our March will begin at 5:15pm at the Elmwood Video Hub, 548 Elmwood Ave. in Elmwood Village.
We will conclude our walk at 6:00pm with a rally and informational picketing at Verizon Headquarters 65 Franklin St in the City of Buffalo.
Come stand alongside your sister and brother in our collective fight for our middle class families. Verizon needs to stop dictating our terms and conditions of our LABOR and negotiate them with our bargaining committees.
Stand Up and FIGHT BACK with us . Our middle class standards are at risk.
COSTANZO BAKERY DRIVERS RATIFY FIRST AGREEMENT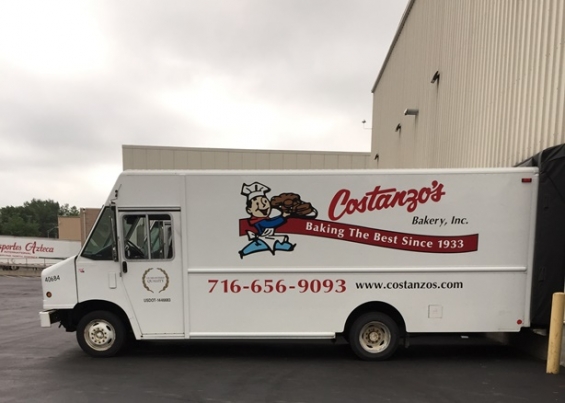 We are pleased to welcome the newest members of the Local 264 Family. Last week, nearly one year after voting to become Teamsters, and following nine months of tough contract negotiations, 10 Route Sales Drivers employed by Costanzo Bakery ratified their first contract.
In addition to the protection of rights afforded by a collective bargaining agreement, the three year deal guarantees; annual increases to the base salary, an increase to the commission rate, drastically reduces the employee contributions for Healthcare, increases paid holidays from two to six and increases the amount of vacation for all drivers with more than two years seniority.
Click on the link below to view the IBT's news release.
http://teamster.org/news/2015/06/teamsters-costanzos-bakery-ratify-strong-agreement
NATIONAL CALL-IN DAY TO FIGHT TPP
As you know, prior to the Memorial Day Recess, the Senate passed Trade Promotion Authority, or Fast Track, which cedes Congressional powers to the President to enter into free trade deals.The Senate's passage was not unexpected, but it's important to note that both Senators Schumer and Gillibrand stood with working men and women by voting against the bill.
Now, the fight moves to the House, where our opportunity to defeat Fast Track has always been.The House is expected to take up the bill within the next 2 weeks. As such, we need to ramp-up constituent contacts from our members.

This Wednesday, June 3, is a National call-in day. We are asking everyone to call their Representatives by Texting TPP to 877877. After texting, you will be prompted to enter your address, and then will automatically be connected to the Washington office of your Congressperson.
Please make the call, it only takes a few minutes of your time . After you have done your part share the text number with your friends and family and ask them to help save american jobs.
Inequity is still an issue on Equal Pay Day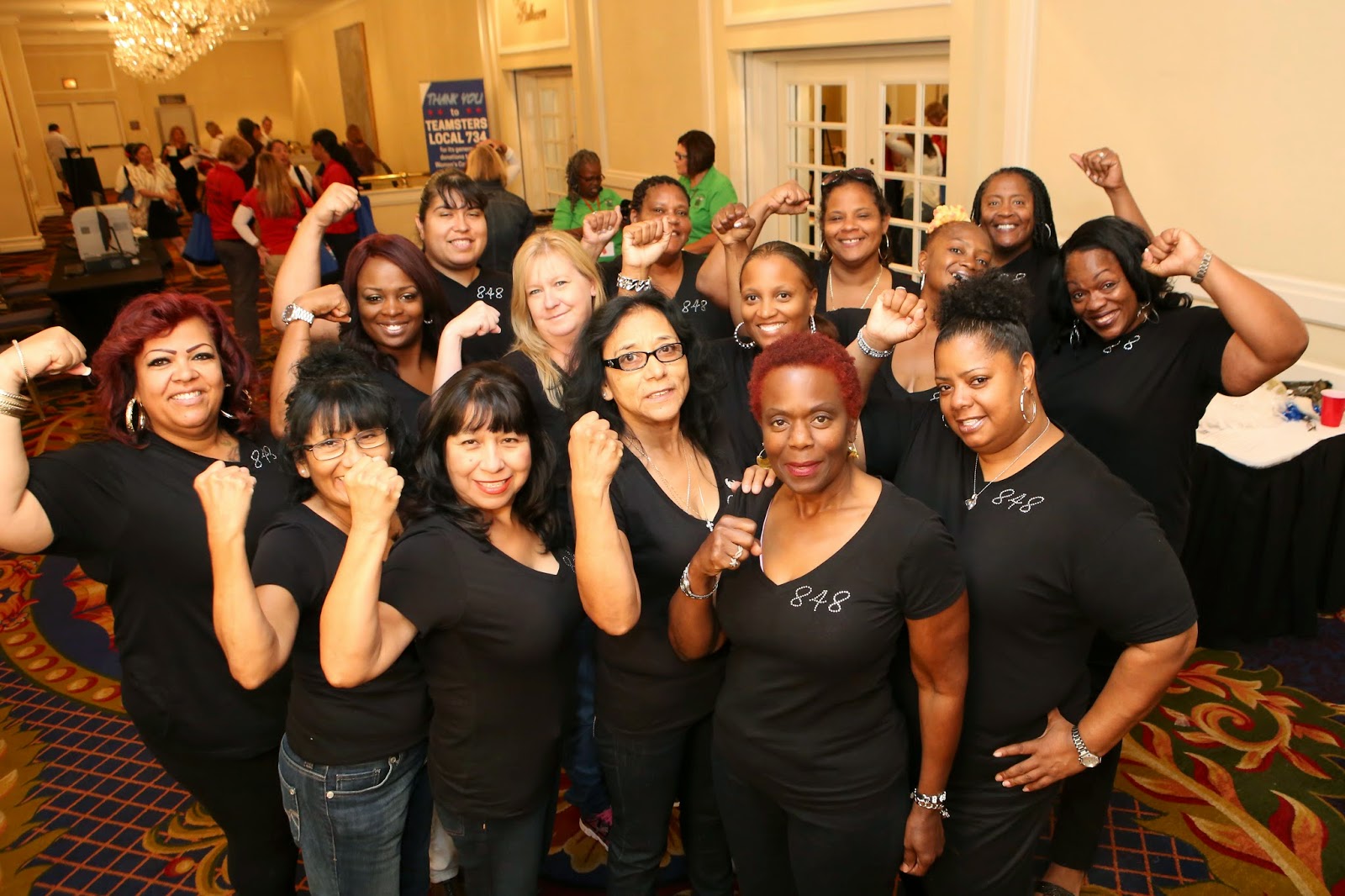 Women lawmakers took center stage today on Capitol Hill to demand fair pay for female workers in honor of Equal Pay Day. And the Teamsters are standing with them.
Sen. Barbara Mikulski (D-Md.), a repeated sponsor of the Paycheck Fairness Act, led the charge in urging Congress to take up and pass the legislation. The measure would help close the wage gap between women and men working equivalent jobs. The pay disparity costs women and their families $434,000 over the length of their careers.

She said:
We need to get equal pay in our law books and equal pay in our checkbooks, and to finally get rid of the harassment and intimidation women face in the marketplace when they even ask about how much pay they make or try to identify how much pay they should make.
As it stands, women on average earn only 78 cents to every dollar made by a male. The Paycheck Fairness Act builds on the promise of the Equal Pay Act passed in 1963. It would empower women to negotiate for fair pay, close loopholes courts have created in the law, create incentives for companies to obey laws and bolster enforcement efforts.

The Teamsters are a strong supporter of the legislation. General President Jim Hoffa sent a letter to senators last fall telling them it was well past time for them to back efforts to equalize pay so that workers can better support their families.

The pay gap has barely budged in more than a decade. It hits nearly every occupation and is even worse for women of color. This not just a low-income problem. It is an every women problem. It is an American families problem.

It may be the 21st century, but for too many women it might as well be the Dark Ages. It is time for all of Congress to take a stand against this blatant inequity.
Teamsters Applaud Veto Of Senate Joint Resolution To Overturn NLRB Election Modernization Rule
The Teamsters Union today applauded President Obama's decision to veto a destructive resolution backed by Republicans in Congress that would overturn modest reforms issued by the National Labor Relations Board (NLRB) to help streamline and modernize representation case procedures.

S.J. Res. 8, which passed both the Senate and House in early March, would have undermined the final rule the NLRB issued in December 2014 to help simplify the process through which workers can seek union representation in the private sector.

"President Obama has stood strong on the side of working people today by sending a clear message to those interests that would seek to discourage and suppress those seeking union representation," said Teamsters General President James P. Hoffa. "The reforms outlined by the NLRB rule do nothing more than improve and modernize the election process. There is no acceptable reason for anyone to stand in the way of this progress."

The final rule includes the following reforms:
Provides for electronic filing and transmission of election petitions and other documents;
Ensures that employees, employers and unions receive timely information they need to understand and participate in the representation case process;
Eliminates or reduces unnecessary litigation, duplication and delay;
Adopts best practices and uniform procedures across regions;
Requires that additional contact information (personal telephone numbers and email addresses) be included in voter lists, to the extent that information is available to the employer, in order to enhance a fair and free exchange of ideas by permitting other parties to the election to communicate with voters about the election using modern technology; and
Allows parties to consolidate all election-related appeals to the Board into a single appeals process.
Haley Bajdas-James R. Hoffa Scholarship Recipient
Teamsters Local #264 is proud to announce Haley Bajdas (daughter of Steward Chris Bajdas/Benlin Distribution) as a recipient of the James R. Hoffa Memorial Scholarship Fund.
Haley will attend Ohio Northern University to further her education and was awarded $1,000 from the I.B.T. Program. Chris is a 32 year Teamster Member from Locals 558 and 264.
We again want to congratulate Haley for her hard work and wish her all the best.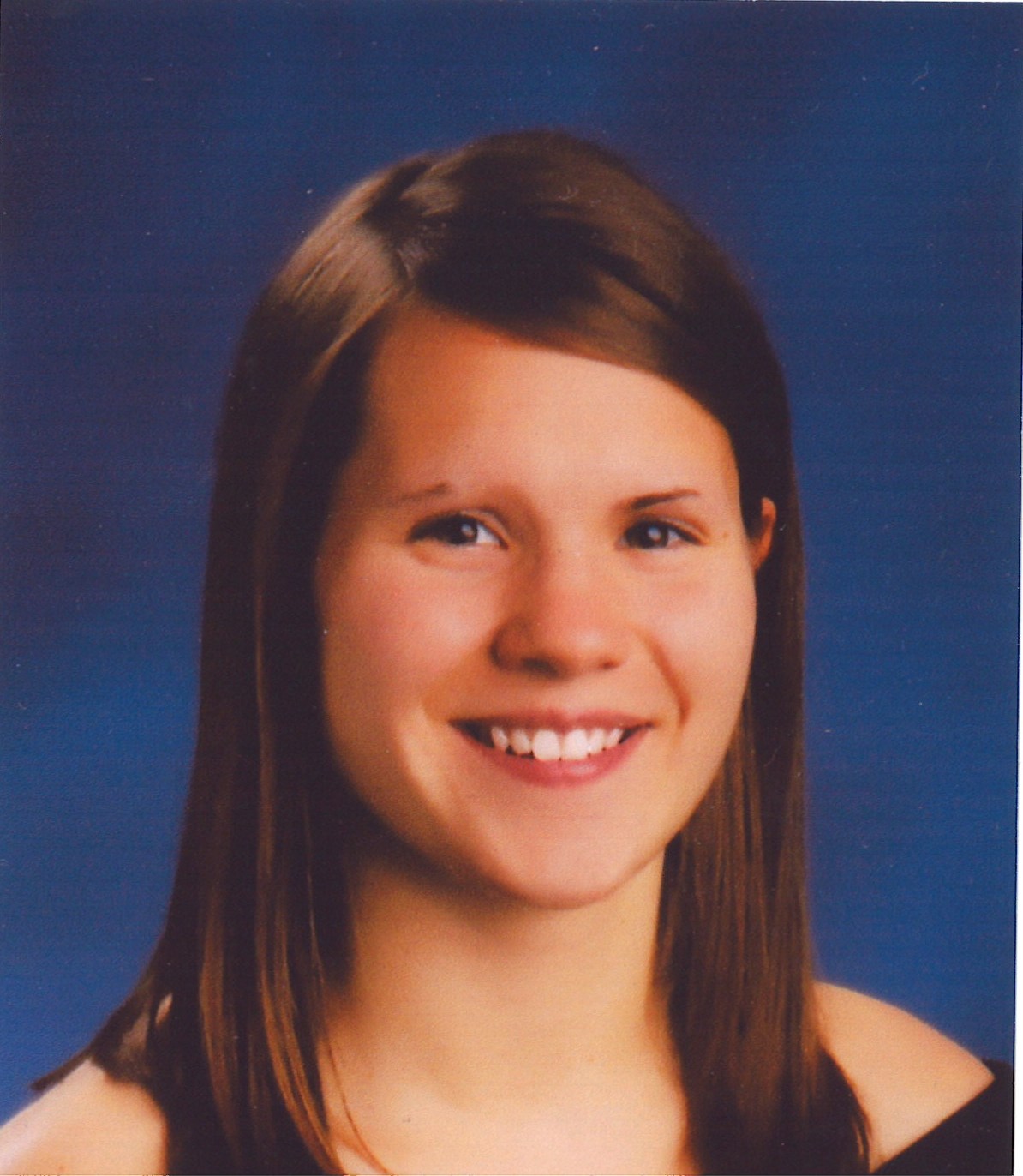 JOIN THE FIGHT FOR FAIR PAY

Dear Fellow New Yorker,
Today, workers and leaders from more than a dozen labor organizations across the state came out in support of the "Fight for Fair Pay" campaign to raise the minimum wage this year, and we wanted share it with you: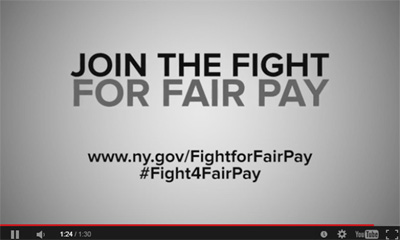 Click on the link below:
https://www.youtube.com/watch?v=FfB5PQDVy2k
New Yorkers who work full-time should be able to afford food on the table and a path out of poverty. As our economy strengthens and more jobs are created in our communities, we must do more to ensure opportunity for all New Yorkers. Together with our labor leaders from across the state, we urge the State Legislature to increase the minimum wage this session.
Hardworking New Yorkers deserve better. Let's raise New York's minimum wage to $10.50 statewide and $11.50 in New York City, and let's do it this year.
If you haven't yet, please sign up to be a part of the Fight for Fair Pay.
Sincerely,
Governor Andrew M. Cuomo
Elizabeth Smith Rossiter 2015 Honoree for "Touching the World" Awards Dinner
— ELIZABETH (LIZ) SMITH-ROSSITER —
Project Director
She has worked advocating on behalf of and alongside low-wage workers since 2011 as the Project Director of the Western New York Worker Center, a project of the Western New York Council on Occupational Safety and Health (WNYCOSH) a non-profit organization in Buffalo, NY. Her past work includes organizing for the Working Families Party and the New York State Senate to create change for working class and low-income people in her home state.
Visionary Leader Born 102 Years Ago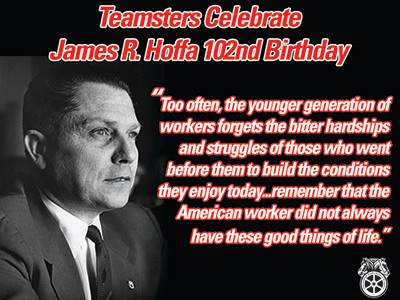 "While working men and women have long known the value of a dollar—it is a lesson well taught to one who labors for a living—it has taken a long, long time to teach employers the value of a human being, and in many cases has not yet been successfully taught. Few give thought to what happens to displaced workers, but they can analyze to the penny what the profits will be." –James R. Hoffa
Each year in February, Teamsters take a moment to reflect upon and remember a leader who changed the course of history for working men and women in America. James R. Hoffa, born February 14, 1913, served as General President of the Teamsters Union from 1957 to 1971. In that time, he inspired thousands to stand up and let their voices be heard.
His words, spoken more than 50 years ago, resonate just as profoundly today as they did then.
As General President, Hoffa honed his well-earned reputation as a tough and effective bargainer, and gained the respect of labor and business leaders alike across the country. He worked hard to expand the number of working men and women who were protected by union contracts and, under his leadership, the union's membership rose to include more than 2 million workers.
Hoffa's crowning achievement was the 1964 National Master Freight Agreement, which united more than 400,000 over-the-road drivers under one contract. This contract, a feat that had been declared virtually impossible by many, lifted more workers out of poverty and into the middle class than any other single event in labor history. Congressman Elmer Holland (D-PA) was quoted as saying, "Jimmy Hoffa has put more bread and butter on the tables for American kids than all his detractors put together."
"My father's devotion to the Teamsters and their families was—and remains—legendary. His whole life was dedicated to bettering the lives of America's working families," said James P. Hoffa, General President of the Teamsters Union. "I can think of no better way to honor his legacy than to continue fighting on behalf of working people everywhere."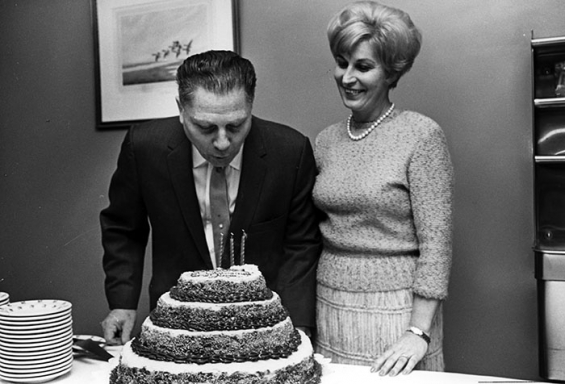 Fight for $15
FIGHT FOR $15
Teamsters Local #264 is looking to mobilize a panel of members to bring about change for low wage workers. Positive results such as the Seattle Washington $15 Minimum Wage Legislation, the San Francisco Worker's Bill of Rights, and the New York City Earned Sick Time Act are some of the area's community based organizations such as the Coalition for Economic Justice are on the front lines of.
Many developed countries have paid sick time legislation for their workers and this practicality is finally becoming a realization in some areas of the United States. The Buffalo News reported on January 17, 2015 that a majority of students in America are now living in poverty. Stopping the disparity of wealth in this nation will help ensure working people of the ability to provide for their family's without government assistance.
Any member interested in learning more or is willing to work voluntarily with myself and a number of these community based organizations along with organized labor, kindly contact Darrin Ziemba at (716)668-8007 x120 and we will get to work.
Teamsters Call on Congress to Stop Special Exemption for Fortune 50 Company

International Brotherhood of Teamsters General President Jim Hoffa today wrote a letter that was sent to the Congressional leadership and circulated to all members of Congress, expressing strong opposition to proposed legislation that would result in a $2 billion bailout of United Parcel Service (UPS).
The letter in its entirety is below and can be found online here:
"On behalf of the 1.4 million members of the International Brotherhood of Teamsters, I am writing to express my strongest opposition to any last minute deal to give United Parcel Service (UPS) a $2 billion bailout to relieve the company of negotiated pension obligations.
"UPS is attempting to escape a negotiated obligation the company agreed to when it withdrew from the Teamsters Central States Pension Fund. This $100 billion, Fortune 50 company is using its influence on Capitol Hill to obtain what amounts to a special interest earmark that sets a dangerous precedent – rewarding a wealthy company by allowing it to evade the contract and slashing retirement benefits should benefit reductions be required under the pending pension reform legislation.
"It's bad enough that some retirees would experience benefit reductions under the National Coordinating Committee for Multiemployer Plans (NCCMP) proposal. It's quite another situation when a company cuts a secret back room deal to save $2 billion by slashing those benefits even further. This outrageous government bailout of one of the most profitable companies in America should be stopped in its tracks.
"While the Teamsters Union has been clear in its opposition to retiree benefit cuts, this proposal would add insult to injury by introducing even more draconian cuts for hundreds of thousands of Teamsters. I urge you to oppose this outrageous plan to bailout UPS for, in effect, breaking its word."
Founded in 1903, the International Brotherhood of Teamsters represents 1.4 million hardworking men and women throughout the United States, Canada and Puerto Rico. Visit www.teamster.org for more information. Follow us on Twitter @Teamsters and on Facebook at www.facebook.com/teamsters.
Local 264 Members Answer The Bell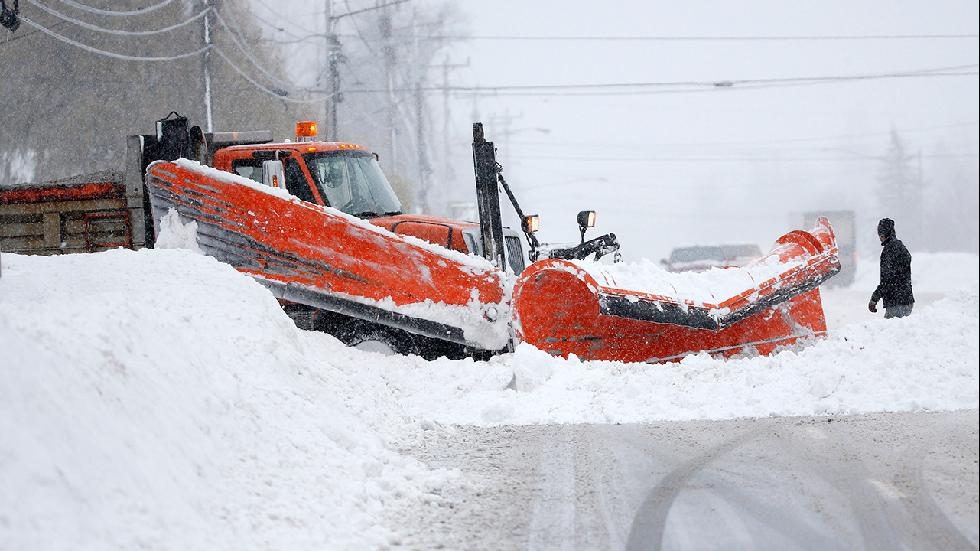 In the wake of this unprecedented storm, I would like to thank all Local 264 members in both the public and private sector who answered the bell in a huge way. The most visible of course are the snow plow drivers in the dozens of municipalities that we represent who worked around the clock to clear our roads, but I also recognize that we have many others who worked tirelessly in lesser visible industries to make a difference.
It would be impossible to recognize them all, but just to name a few, the Erie County Sheriff's Deputies, Nurses and Civilians also worked around the clock to maintain safety at the Erie County Holding Center and the Erie County Correctional Facility. Warehouse workers and drivers of Tops Markets, Upstate Farms, US Foods, Allied Frozen Storage, Tripifoods, Stroehmann and Schwebel Bakeries ensured that store and supermarket shelves remained stocked with milk, bread and other essential food products for those who managed to walk to the stores. Local 264 members employed at the Buffalo Water Authority braved the elements to shut-off fire hydrants that were knocked-off by plows or other vehicles during the blinding snow. A UPS Driver from the Dunkirk Terminal was stranded for days in Cheektowaga while making her daily trip to the Buffalo Airport to pick-up Next Day Air packages. Crossett tank drivers delivered gas and diesel to our service stations in terrible driving conditions, and in the spirit of the late Mayor Jimmy Griffin, warehouse workers and drivers of Try-It Distributors and Certo Brothers made sure that anyone who wanted to "grab a six-pack and just stay home" was able to do so.
While we in Organized Labor are often viewed as over-paid, lazy and pampered, I for one am fully aware and appreciative of the hard work and dedication that our members exhibited last week.
To all of our members who made a difference, I offer a sincere and heartfelt THANK YOU.
In Solidarity,
Brian Dickman.
FAST TRACK WEEK OF ACTION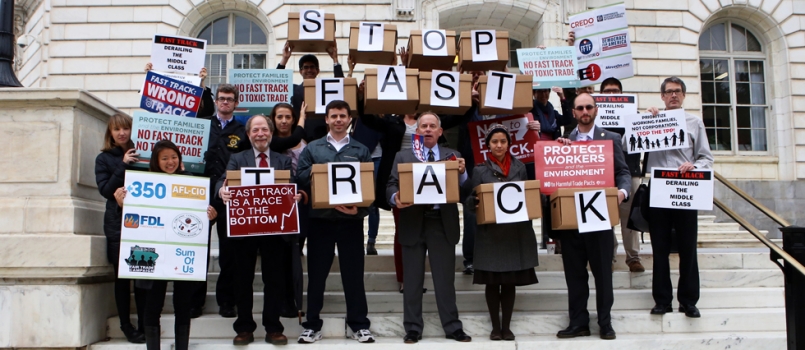 Happy Stop Fast Track Week of Action! There are a couple things that everyone can do to be involved in this week, and we encourage you to help with the following efforts:
Call your member of Congress and demand that they vote no on fast track.
Email your member of Congress and tell them that Fast Track will cost good US jobs.
Sign the "Fast Track is Wrong for Teamsters" petition.
All of this can be easily accomplished by visiting:
http://teamster.org/fast-track-wrong-track-teamsters
Together with your help, we will send a clear message to Congress that Fast Track is the wrong track for Teamsters!
National Voter Registration Day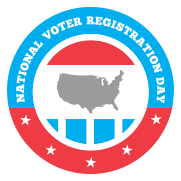 Tuesday, September 23rd is National Voter Registration Day, a day when volunteers, celebrities, and organizations from all over the country will "hit the streets" to create pervasive awareness of voter registration opportunities.
In 2008, 6 million Americans didn't vote because they missed a registration deadline or didn't know how to register. In 2014, we want to make sure no one is left out, especially Teamster members. There is so much at stake in this year's elections; we can't afford a repeat of 2010.
The IBT and Local 264 are supporting partners of National Voter Registration Day. In New York State the deadline to register is October 14th in order to vote in this years election. Registration forms can be obtained at the Union Hall, by contacting Tony Vaccaro at 716-668-8007 ext. 118 tvaccaro264@yahoo.com or by visiting the official National Voter Registration Day website
Together, we can ensure that the Teamsters Union makes an even greater impact at the ballot box this year by electing labor-friendly law-makers.
Teamsters Praise Obama Crackdown On Companies That Abuse Workers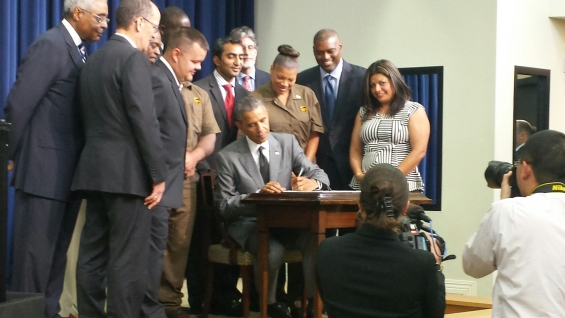 (WASHINGTON) – The International Brotherhood of Teamsters strongly supports President Obama's executive order to crack down on corporations that break laws but still win government contracts.
Two members of the Teamsters Union stood with President Obama today to announce the new policy. They are Mike Petro of Baltimore, a UPS driver with Teamsters Local 355, and Etta Epps of Landover, Md., also a UPS driver, with Teamsters Local 639.
"I am so proud of how my union makes sure I earn a good wage, health care benefits and retirement security," Petro said. "As a taxpayer, I believe the government should support companies that let workers support themselves through collective bargaining."
"My Teamster contract guarantees that I earn equal pay to a man who does the same job I do," said Epps. "The government shouldn't compensate companies that attack women by attacking their unions."
"Taxpayers shouldn't reward lawbreakers that bust unions, steal wages and endanger workers," said Teamsters General President Jim Hoffa. "President Obama is right to make it harder for companies that abuse workers to receive federal contracts.
"Corporations now know they can break wage and hour laws with impunity. Men and women who work hard and play by the rules should not be sending their tax dollars to companies that mistreat their employees. Bad actors don't deserve the financial support of the federal government."
Founded in 1903, the International Brotherhood of Teamsters represents 1.4 million hardworking men and women throughout the United States, Canada and Puerto Rico. Visit www.teamster.org for more information. Follow us on Twitter @Teamsters and "like" us on Facebook at www.facebook.com/teamsters.
WNY Area Labor Federation President Richard Lipsitz Named Vice Chairman Of The Erie County Industrial Development Agency By Unanimous Vote

Western New York AFL-CIO Area Labor Federation (WNYALF) President Richard Lipsitz Was Named Vice Chairman of the Erie County Industrial Development Agency (ECIDA) Today (Wednesday, July 16th) by a Unanimous Vote – Which Not Only Places Another Feather in the Cap of Organized Labor, But Helps Ensure the ECIDA Will Provide "Good Jobs" Through the Industrial Development Projects it Funds With Taxpayer Dollars.
"It's Important," Lipsitz (Pictured Above Listening to Two Area Young Unionists) Told WNYLaborToday.com After This Morning's Vote. "It Was the (Erie) County Executive (Mark Poloncarz) Who Nominated Me and He Too Understands That the IDA Needs to Help Create 'Good Jobs' Through Industrial Investment in the Community. Labor's Goal Coincides With Community Benefits, 'Benefits' That Help 'Ordinary People' Make a Good Living – 'With' Benefits. That's What it's All About."
Lipsitz, Who's Served as an ECIDA Board Member For Past 2.5 Years, Was Appointed to the Board by Erie County Executive Mark Poloncarz.
Lipsitz Has a Long Union History, Which Stretches Back Into the Mid-70s Here in Western New York. Currently Serving as Teamsters Joint Council No. 46's Political Action Coordinator, Lipsitz Has Also Held a Number of Local Labor Positions Over the Years - Including Union Steward and Union President, Working Previously With the Service Employees International Union (SEIU) Before Joining the Teamsters. He's Served as President of the WNYALF – Labor's Area Umbrella Organization That Oversees and Directs Five Individual Labor Councils: Buffalo; Niagara-Orleans; Dunkirk; Jamestown; and Cattaraugus-Allegany – For Nearly Three Years Now.
Lipsitz's Elevation to Vice Chairman of the ECIDA Came After Brenda McDuffie, President and Chief Executive Officer of the Buffalo Urban League, Was Named Chairman. McDuffie, Lipsitz said, Has "Similar Views" of Organized Labor Regarding the IDA Helping Create "Jobs That Provide a Future," as Well as Maintaining a Host of Minority and Women Hiring Goals on the Construction Projects Funded by the IDA.
In Addition to Lipsitz, Buffalo AFL-CIO Council President Michael Hoffert Also Holds a Seat on the ECIDA's Board of Directors.
Working in Tandem, Lipsitz and Hoffert Were Successful Earlier This Year in Pushing Forward a Local Hiring Provision/Workforce Standards Agreement – Which Ensures Local Workers are Hired and Paid Good Wages When the ECICA provides Taxpayer Dollars to Help Fund Major Construction Projects in Erie County (Go to: www.wnylabortoday.com/index.php?src=news&refno=3385&category=Buffalo).
The Two Told Your On-Line Newspaper Back in April That the Workforce Standards Agreement Was a "Tremendous" Economic Development Benefit That Will Work to Create Good-Paying Jobs for Local Workers.
As Representatives of Working People, Lipsitz Also He and Hoffert Support What's Called Recapture Methods to Reclaim IDA Taxpayers Dollars When "the Hiring Goals of the Project are Not Met" by Funded Developers.
For Example, the Workforce Standards Agreement Will Apply to Veteran Buffalo Developer Mark Croce's $18.1 Million Hotel/Hospitality Project to Convert the Long-Vacant and Historic Curtiss Building in Downtown Buffalo Into a Boutique Hotel. Croce Recently Received Sales and Mortgage Tax Breaks Totaling $685,000 From the ECIDA, Which Will Help Create a 67-Room, Boutique Hotel, Fine Dining Restaurant, Lounge, Spa and Fitness Center Within the Old Curtiss Building on Franklin Street. The Project is Also Expected to Create 30 New Jobs.
COSTANZO ROUTE DRIVERS VOTE TO JOIN LOCAL 264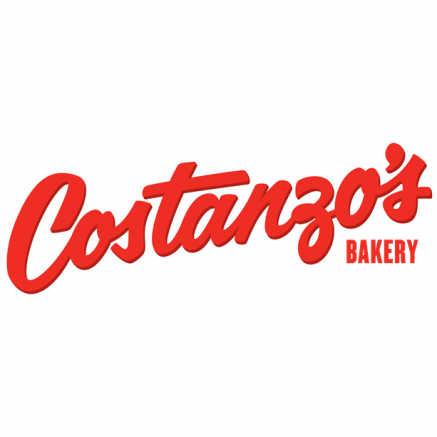 Workers Vote for Strong Partner to Address Issues on the Job
PRESS CONTACT
Tony Vaccaro
Email:
Phone: (716) 668-8007
(CHEEKTOWAGA, N.Y.) – Today, route sales drivers at Costanzo's Bakery overwhelmingly voted to join Teamsters Local 264 in Cheektowaga, N.Y. despite a concerted effort by the company to discourage unionization that included weekly captive audience meetings and intimidation.
The workers, who sell and deliver baked goods across Western New York, approached Local 264 in early May looking for help to address problems that had grown out of control at Costanzo's Bakery.
"We were being treated poorly by management who was adding more and more stops to our routes without compensation," said Kevin Schmidt a sales route driver at Costanzo's. "No matter how we approached the company, they ignored us, but with the Teamsters representing us, they won't be able to ignore us any longer."
Schmidt praised the local for all the work they had done leading up to the vote, including getting a driver reinstated after the company fired him.
"We filed an unfair labor practice complaint after Costanzo's fired a driver as a way, we believe, to intimidate other workers who wanted a union," said Tony Vaccaro, Local 264 business agent. "Despite all of the anti-union tactics management threw at these guys, they remained united and voted for their union."
Founded in 1903, the International Brotherhood of Teamsters represents more than 1.4 million hardworking men and women throughout the United States, Canada and Puerto. Follow us on Twitter @Teamsters and "Like" us on Facebook at www.facebook.com/teamsters.
UPS MASTER AGREEMENT GOES INTO EFFECT

From the Teamsters UPS National Negotiating Committee regarding the 2013 National Master United Parcel Service Agreement, All Supplements, Riders and Addenda
April 23, 2014 - The 2013 National Master United Parcel Service Agreement and all Supplements, Riders and Addenda are in effect starting April 25, 2014. The Teamsters National Negotiating Committee took this action pursuant to Article XII of the International Brotherhood of Teamsters Constitution.
The economics contained in the Agreement are retroactive to August 1, 2013. UPS has committed to expediting payment of your retroactive wages. The retro check will be a separate check from your regular paycheck. UPS owes Teamster members and funds over $300 million in wages and contributions. It is time to make Teamster members and their funds whole.
The changes to health care that were approved by a majority of UPS Teamsters in June 2013 will go into effect June 1, 2014. If your health care is changing as a result of this Agreement, you will be receiving information in the coming weeks regarding your benefits.
It was an honor to represent UPS Teamsters across the country in these negotiations. Through our united efforts we have negotiated a strong contract that includes pay increases, excellent benefits and new language that protects our jobs and improves our working conditions. We would like to thank the UPS Teamsters across the country who have waited patiently while our Teamsters collective bargaining process was completed.

Download:


UPS Final.pdf


UPS CONTRACT UPDATE

The Ohio Rider has been passed by the membership. Still outstanding are the Western Pennsylvania Supplement, Local 623 Supplement and the Local 89 Air Rider. Ballots will be mailed for the Local 89 Rider this week and will be counted on April 10, 2014.
Union Honors Contributions of Female Members

March is Women's History Month, a time to reflect upon and celebrate the contributions American women have made to society.
The Teamsters Union has always stood as a bastion of hope for all working people, regardless of gender, race or creed. The Teamsters Union was the first to secure a gender-blind, color-blind contract, and throughout our history our leaders have demanded equality for all members. But it is Teamsters themselves who have upheld the values of this organization and who have stood together to face and overcome adversity.
Teamster women have made significant contributions to the work force over the years, bravely fighting for economic and social justice. Teamster women, in particular, have been engaged and active politically, socially and economically, helping pass important legislation, volunteering in their communities and making life better for us all.
Teamster Women
According to the average high school history textbook, the history of women in the labor movement can be told in a few short paragraphs about Mother Jones and some women sewing shirts in New York City. Apparently the authors never asked any working women about their story. If they had, they would know that many women have been active in the labor movement from the very beginning, leading the way for passage of critical labor legislation over the years. And Teamster women, although not usually involved in the typical heavy work of the members in the early days, were critical to the union's success.
Dan Tobin, elected General President of the Teamsters in 1907, recognized the value of organizing women as a way to strengthen the union's voice and increase membership. He set out to bring union protection to working women across the country. His plan quickly stalled, because while most men understood the plight of working women, they thought it folly to give full membership to a group that could not even vote. It would take two World Wars and a national epidemic to change their minds.
Undaunted, Tobin and other like-mined Teamsters found other ways to aid working women. Representatives of the union helped women workers, referred to as "auxiliary members," organize, plan strikes and win fair contracts in the workplace. Tobin also used the Teamster magazine as a way to promote awareness of issues related to women and children in the labor force, which set it apart from many other publications of the time.
In 1916 the Teamsters were involved with a landmark contract for women laundry workers in Chicago. The union helped the workers successfully organize and create their first all-women negotiating committee. The committee won a strong contract, including a non-negotiable provision demanding equal pay for white and black workers. Following this success, the door was opened to organize more "auxiliary members" in the laundry, food and other related industries.
Equal Pay For All
By 1917 women were being trained in the motorcar and truck industries as men prepared to join the war overseas. They stepped into many other jobs previously held by men and were also trained to keep local unions going during the war.
With the great flu epidemic of 1918, Teamster women found themselves doing much more than keeping the home fires burning. Women truck drivers were needed to transport medicine and supplies to hospitals and rural areas. These women would complete a day's work, then pick up supplies to deliver to farm families. At each stop they would help with chores and get the family settled before moving on to the next stop. Their courage and strength was incredible. The union and the country would not have made it without them. Their deeds were lauded at the time, but largely forgotten today.
As a tribute to the tremendous efforts of women and minorities in the war, the Teamsters pushed for wage equality, adopting "Equal pay for all" as their union slogan in 1919.
After a decade of post-war prosperity, the Great Depression of the 1930s brought decreases in membership for all unions. Scarcity of jobs and fears of unemployment forced workers to take whatever wages they could get. In 1934, Teamster men and women in Minneapolis took a stand against poor treatment from companies and city officials. They called a general strike, which became the epicenter of clashes between labor and management forces throughout the nation. Women were key players in this long, bloody strike that led directly to labor reform acts and the establishment of the National Labor Relations Board. They set up an infirmary, soup kitchen and other services for strikers, which ran 24 hours a day. They also raised funds to support workers and even created a newspaper to keep strikers up to date on the situation.
Rosie the Riveter Joins the Union
The bombing of Pearl Harbor brought millions of new women into the work force, tackling jobs in war production, transportation and other essential industries, many with workers represented by the Teamsters.
Recognizing the country's dependence on their efforts gave Teamster women the leverage they needed to demand and win full union membership in 1943.
After the war, women stayed active in organizing and also turned their attention to politics, taking an active role in the union's new political action program, DRIVE (Democrat, Republican, Independent Voter Education). They became very adept at bringing attention to important labor issues.
The Future Is Now
These are just a few of the many accomplishments by Teamster women over the decades.
Teamster women have never stopped blazing trails in the union and in the work force. They have pushed for improved workplace standards and pursued nontraditional jobs in every field.
The number of women in the work force is expected to increase dramatically in the next few decades, creating even greater need for strong women in labor unions. Dan Tobin was right: Women are valuable members, bringing strength and character to the union.
He foresaw a strong future for them in 1947 when he said, "Women members are coming into their own. In the future they will be out in ever increasing numbers…an army of labor amazons that the exploiters will learn to fear."
Today, we are thankful for the contributions of those who have helped make our union what it is: a diverse, ever-growing organization that fights for justice, equality and fair treatment in the workplace.
By-Law Amendment Proposals
As a result of the cancellation of the January meeting due to the snow storm, any By-Law amendment proposals will be read at the February meeting.
If any proposals are presented, they will then be read again at the March and April meetings and voted at the April meeting.