JOIN THE FIGHT FOR FAIR PAY

Dear Fellow New Yorker,
Today, workers and leaders from more than a dozen labor organizations across the state came out in support of the "Fight for Fair Pay" campaign to raise the minimum wage this year, and we wanted share it with you: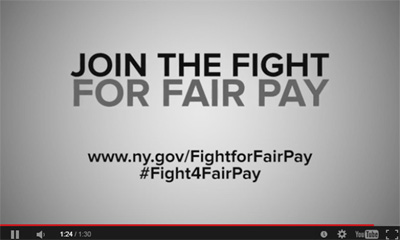 Click on the link below:
https://www.youtube.com/watch?v=FfB5PQDVy2k
New Yorkers who work full-time should be able to afford food on the table and a path out of poverty. As our economy strengthens and more jobs are created in our communities, we must do more to ensure opportunity for all New Yorkers. Together with our labor leaders from across the state, we urge the State Legislature to increase the minimum wage this session.
Hardworking New Yorkers deserve better. Let's raise New York's minimum wage to $10.50 statewide and $11.50 in New York City, and let's do it this year.
If you haven't yet, please sign up to be a part of the Fight for Fair Pay.
Sincerely,
Governor Andrew M. Cuomo